Me-to-Me Transfers
This online banking feature enables you to securely transfer money between your Comtech Fire accounts and the accounts you have at other Canadian Financial Institutions.
Both the Me-to-Me Transfer & Me-to-Me Business Transfer features give you greater control over your financial affairs. Using your Comtech Fire accounts, you'll be able to:
Pull funds from your accounts at other Financial Institutions
Send funds to your accounts at other Financial Institutions
Things you should know:
Accounts at other financial institutions that require two signatures to withdraw or operate the account cannot be linked
To remove a linked account, log in to Online Banking and go to Transfers in the left-hand navigation. Go to Link External Accounts and select the Delete Link on the account you would like removed. Please note this may take up to 3 business days to complete
How quickly is the money transferred?
The speed of the transfer will vary depending the Financial Institution with which you link. The transfer time may range from instantly to a maximum of 5 business days. However, for security reasons, there may also be a 3-day hold placed on incoming funds by the receiving institution.
Can I schedule automatic transfers?
Yes, you can set up daily, weekly, monthly, and yearly transfers. However, since other Financial Institutions might place a 3-day hold on incoming funds, we recommend that the funds are transferred 3 days in advance of when the money needs to be accessed in the other account. This will ensure that your funds reach their intended destination on time.
Limits
Multiple transactions may be done in a single day so long as they fall within the following limits:
| | |
| --- | --- |
| Daily maximum | $3,000 |
| Weekly maximum | $10,000 |
| Monthly maximum | $20,000 |
Fees
Sending a Me-to-Me transfer = $1.25
Receiving a Me-to-Me transfer = Free
How to set up a Me-to-Me transfer link
Log into Online Banking
Click on Transfers from the left-column menu
Click on the Link External Accounts page and select Add an Account. Fill out the "Me-to-Me Transfer Authorization Form" and submit it along with your void cheque. See below for an example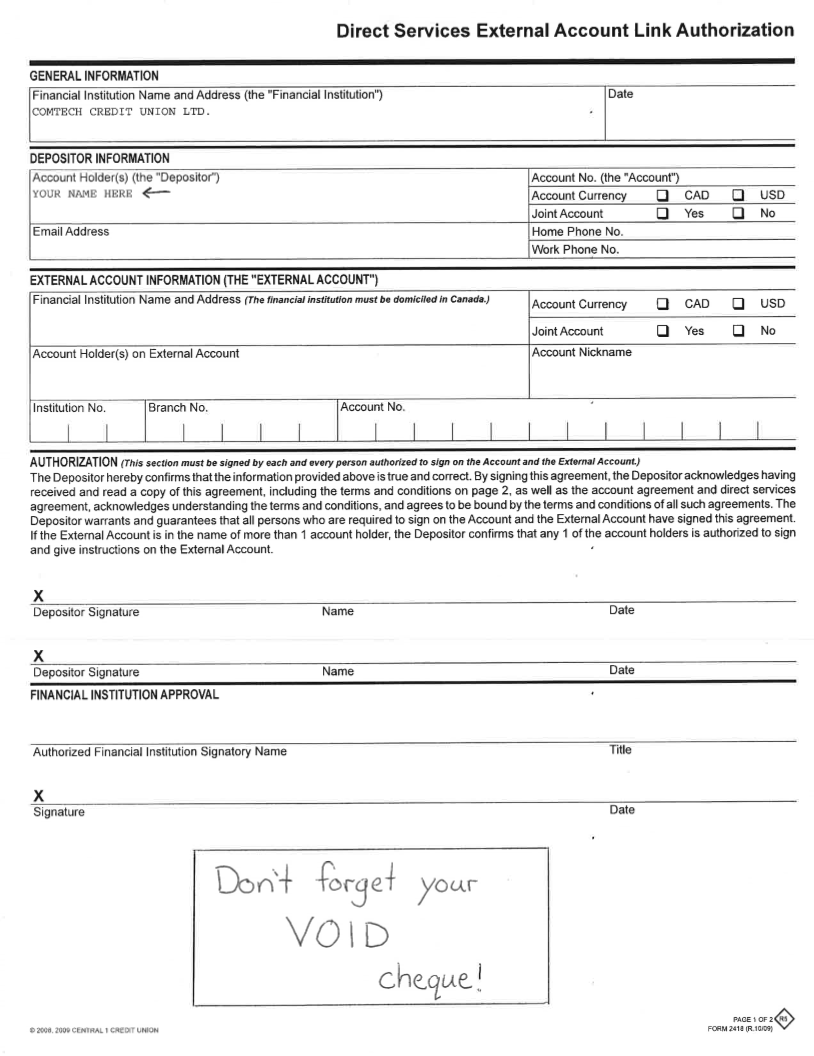 Note: Your external accounts at other financial institutions must be activated within 45 days of the request; otherwise, Comtech Fire will need to cancel your request.
How to perform a Me-to-Me transfer
Once the Me-to-Me Transfer link is established, your external account(s) will be selectable from the "Transfer From" and "Transfer To" drop-down fields in MemberDirect's Transfer Funds page. Using this page, you can quickly and securely manage your funds located in external accounts.